Exclusive benefits and privileges to compliment your lifestyle
Features:
Wide acceptance at all merchants and ATMs locally and globally.
Online shopping availability by the card through calling the contact center 16668 to activate the service
The possibility of using the card in executing transactions of all government entities with POS points (Meeza Network), or payments' settlement of governmental services through the e-Government portals.
Unlimited number of supplementary cards can be issued.
saib Debit MasterCard is chip based.
Rewards program, where you can get 0.25 points for each purchase pound and then exchange the expected points for free purchasing through Pay with Rewards application.
Availability of Cash deposit through saib different ATMs 
Safer than carry cash
Ease of Card activation through our 24/7 Call Center 16668
Ease of PIN code creation and change through the nearest saib ATM machine.
Alerting SMS after any transaction 
Enjoy saib discounts at a variety of selected merchants 
The ability to conduct transactions and pay with the contactless feature by only tapping your card.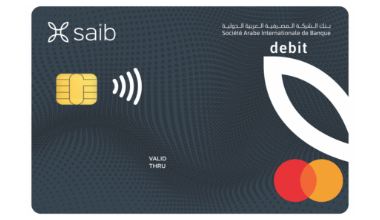 To review cards Tariff and commissions. Click here
All terms & conditions apply. Click here